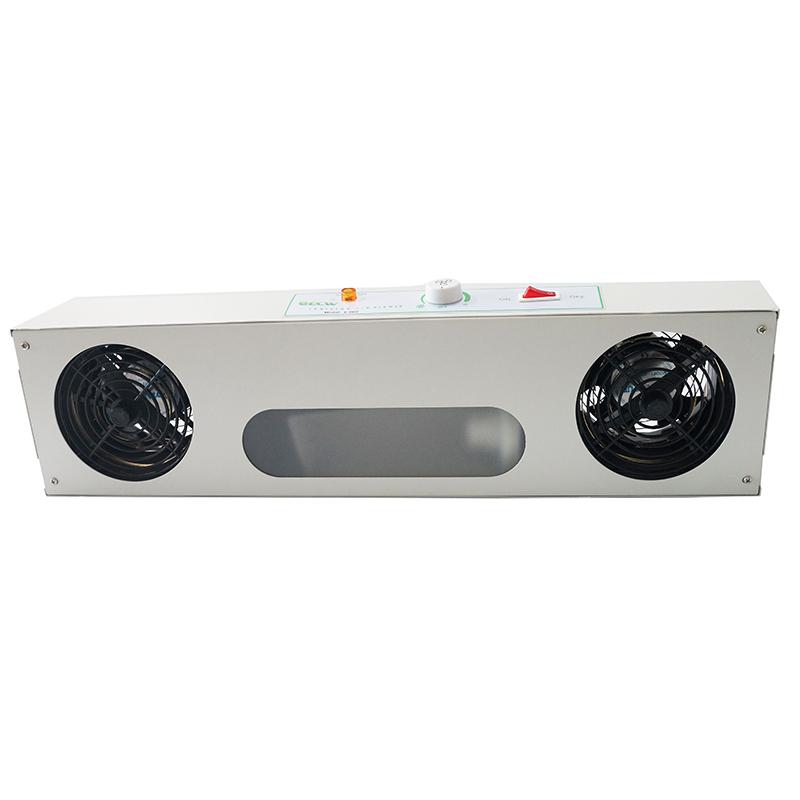 CE AC Overhead Ionizer static eliminator
Model No.︰
E-002
Brand Name︰
ECW
Country of Origin︰
China
Unit Price︰
US $ 125 / pc
Minimum Order︰
1 pc
Product Description
E-002 Overhead Ionizing Air Blower is a member of the IONSTAT ionizing air blower family. The E-002 blower is an overhead unit designed to provide total coverage for electrostatic problems.
Please read the instruction manual completely before installing or operating the unit. This unit is equipped with a 3-wires grounding plug and must be plugged into a 3-terminal grounded socket. Do not modifying plug or using an ungrounded power socket. If an extension cord is necessary, used only a 3-wire extension cord that provides grounding.
Do not insert any object through intake or outlet grille.
Do not operate the unit under inflammable or explosive atmospheres.
Internal repairs or servicing should be done by our technician.
SPECIFICATION:
Line Voltage 220VAC/ 50 Hz or 110VAC / 60Hz
Current Consumption Max.0.5 Amp (fan high, light on)
Min.0.25 Amp (fan low, light off)
Air Volume Output Fan speed Flow
Low 80 CFM
High 220 CFM
(Flow amount equal to sum of 2 fans)
Air Flow Characteristics 40cm×90cm Area Coverage
Light Output 850 Lumens Total.
Replacement Lamp 13-15 Watt Energy Saving Fluorescent
Operating Temperature 32ºF(0℃)~122ºF(50℃)
Enclosure aluminum alloy
Finish Powder Coat
Size 610mm(L)×170mm(W)×125mm(H)
Ion Balance (offset voltage) 0V +/- 10V
Payment Terms︰ TT Paypal
Related Products