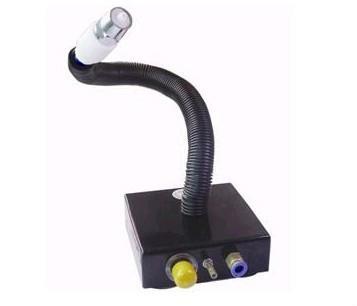 SL-080A static eliminator ionizing air snake
Model No.︰
SL-080A
Brand Name︰
Dr. Schneider PC
Country of Origin︰
China
Unit Price︰
-
Minimum Order︰
1 pc
Product Description
Features:
1. Rapidly neutralizes static charger
2. Convenient and safe to move
3. Air snake has good grounding protection
Specification
Input voltage: AC 220V/50Hz or 110V/60Hz
Current consumption: ≤ 350Ua
Operating temperature: 320F (00C) – 1220F(500C)
Outside voltage: 4.6KV
Weight: 2.6kg
Compressed air pressure: 40—70psi
Airflow speed: 10m/sec
Discharge time result:
Testing condition

Testing voltage: 1.0KV—100KV Temperature: 22℃ Humidity: ≤60%

Distance

150mm

Decay time

Positive

1.5s

negative

1.6s

Offset voltage

Positive

≤±35V

negative
1. Ion balance and decay time is according to the ESD standard, the neutralizing static time is in the voltage of 1000V-100V.
2. Test data available using ME268A chargers plate analyzer.
3. Test figures are subject to the variation in the atmospheric conditions.
Related Products