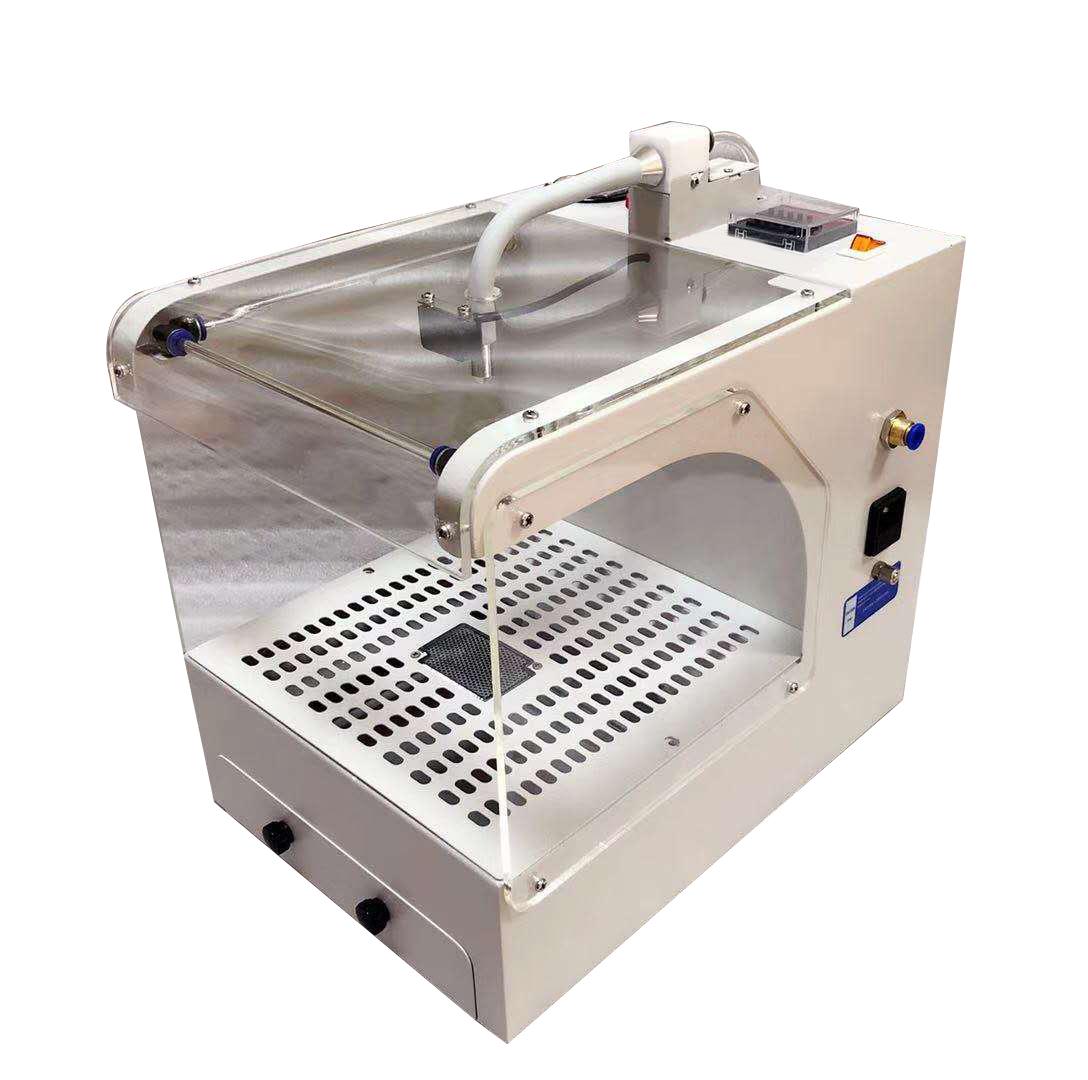 static eliminator phone production sensor timer dedust box Cabinet
Model No.︰
EB-350N
Brand Name︰
IONSTAT
Country of Origin︰
-
Unit Price︰
-
Minimum Order︰
1 pc
Product Description
1. IMPORTANT:
Please read the instruction menu before installation. Please ground the unit before any operation.
Do not operate the unit under inflammable or explosive atmospheres. Cut the power off when not use.
Internal repairs or servicing should be done by technician.
2. INSTRUCTION
dust cabinet EB-350 is specialized equipment for both dust cleaning and static elimination. It has features of easy operation, stable working, strong air and instant static elimination.
3. WORKING THEORY
When objects (such as IC and phone casing) with static or dust be placed in working area of dust cabinet, ion emitter with sensor will generate considerable amount of positive and negative ion and high pressure air flow that blows to the object, which will eliminate the static and clean the dust on the object. Dust will be collected by the dust box with negative pressure.
Note: clean the working area or place a dust sticky pad from time to time.
4. FEATURES:
1,Dust removal static elimination time adjustable from 0 to 30s;
2,The air speed can be adjusted by the regulating valve, and the air curtain design keeps the working area in a positive pressure state to avoid the entry of dust from the outside environment;
3, Small, easy installation, transparent window for easy observation;
4, The dust collection area can be cleaned regularly through the front lower baffle;
5, Material: stainless steel, plexiglass, etc.; 6, Designed for different products.
7, Using SNS pneumatic components, Japan Omron photoelectric switch
8, DC high frequency technology, external DC 24V power supply, safe and avoid electric shock.
5. SPECIFICATION:
| | |
| --- | --- |
| Input Voltage | AC220V turn 24V |
| Max Current | 220VAC/0.04A |
| Power Consumption | ≦3W |
| Working temperature | 32℉(0℃)-122℉(40℃) |
| Working humidity | ≦60% |
| Dimension | 350length*250width*350height(MM) |
| Air pressure | 0.3-0.8MPA |
| Static eliminating time | 0.8S |
| Ion Balance | ≤±15v |
ION OUTPUT (DISCHARGE TIME):
1. Distance measured in mm, decay time measured in seconds.
2. Test data available using ME 268A charge plate analyzer.
3. Test figures are subject to the variation in the atmospheric conditions.
The unit is customized, if actual product is different from photo in menu, the actual on should prevail. We reserve the right of changing product appearance.
Payment Terms︰ TT/Paypal